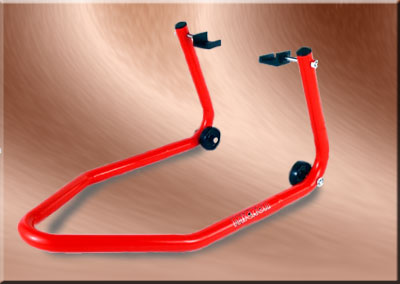 STANDS

Whether day to day use in the garage, or constant use at the track, Micron rear swingarm stands offer the finest in construction, quality and strength for any Sportbike made.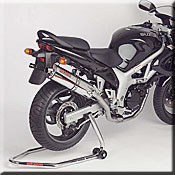 Constructed of large diameter tubing in a 3 piece design for easy transport, Micron stands offer one of the most cost effective ways to raise and stabilize the rear end of the motorcycle for any rider. Since our stands are of all bent tubular design, there are no welds to crack or break, reducing the risk of damage to your machine from a poorly designed product. And we finish with molded rubber on steel swingarm pads (not "plastic dipped" like some other companies), to maximize the useful range of the stand, as well as protecting your swingarm from damage.
Available in either powder coated red or brilliant chrome over stainless, Micron rear swingarm stands are one of the best ways to make your machine easier to work on or store.