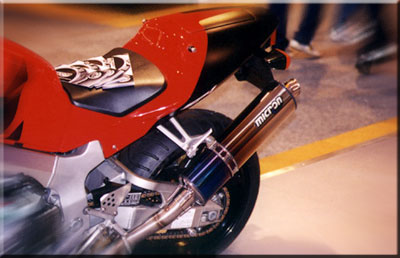 SLIP-ONS

When it comes to slip-ons, nothing even comes close to Micron!
Quality also means that even although everything looks nice coming across the parts counter when new, what materials are used will tell you how long your hard earned money is going to keep in the real world of use. Constructed using polished stainless steel endcaps, a stainless steel interior tube and a clean sleeve with no rivets to rattle loose or wreck the sleeve, as many of our competitors set-ups do. Micron canisters use our newest 3&4 bolt end cap designs, which means that unlike companies which are stuck in the 1970's and still use rivets, our canisters have NO rivets holding the sleeves to the canister.
We know that many companies will say that they use "this or that" to secure the rivets, but the bottom line is that these are just layers of fixes to an old design.
At Micron we feel that the canister sleeve should not be used as a structural member of the canister, and that is that.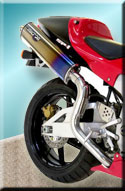 Six months or a year down the road a poor finish forces both ill will and an unnecessary second purchase on your part. Better to buy quality once, and leave the problems to others. Simple to install, lighter weight then stock and great sounding make the Micron slip-ons one of the best additions you can make for very little money.
Choose from our wide array of standard or high mounts (some models), round or oval canister shapes, and your choice of polished aluminum, carbon fibre, ultra bright chrome over stainless or super trick titanium canister sleeve options.
And as if this were not enough choices, Micron also offers you another ELEVEN color choices!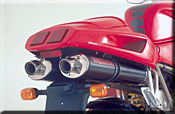 So whether your choice is our anodized aluminum sleeves in 5 colors, our Kevlar / Carbon fibre in another 5 colors, or the ultimate in wild "scorched" titanium, Micron has the fit, finish and style to make your machine as custom as the way you ride it.

As we said, when it comes to slip-ons, nobody offers the variety and quality that only comes from the market leader - MICRON!