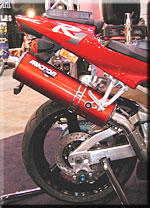 Quality means that even although everything looks nice coming across the parts counter when new, what materials are used will tell you how long your hard earned money is going to keep in the real world of use. Micron canisters are constructed using polished stainless steel endcaps (or CNC machined billet aluminum for flange mounts), a stainless steel interior tube and a clean sleeve with no sleeve rivets to rattle loose or wreck the carbon fibre (as many of our competitors set-ups do).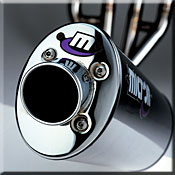 Then the Micron canisters use our unique 3&4-bolt end cap designs, which means that unlike companies which are stuck in the 1970's and use rivets to hold their cans together with the sleeve as a stressed member, our canisters have NO rivets holding the sleeves to the endcaps. We know that many companies will say that they use "this or that" to secure the rivets, but the bottom line is that these are just layers of fixes to a less expensive and old design. Micron quality means the canister sleeve should not be used as a structural member of the canister, as the continual heating and cooling cycles, combined with the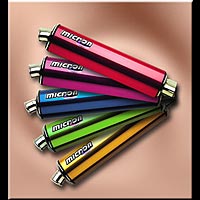 shaking and pounding that a muffler takes, makes rivets a very weak and poor choice for assembly. Six months or a year down the road a poor finish forces both ill will and an unnecessary second purchase on your part. Better to buy quality once, and leave the problems to others.
Micron canisters are available in a wide range of colors (some shown at right), shapes, positions and finishes so you can make your machine as unique as your passion for motorcycling.
Do not confuse the poor quality of some brands with the high standards of manufacturing used by Micron. Choose wisely and you will find that Micron is the standard for performance and quality!